HOW IS LADY RED LASH DIFFERENT?
---
---
At Lady Red Lash Academy we operate our training's at the highest level possible. Here is how we are different from other companies and what you get when you buy into the Lady Red Lash Academy Brand:
We believe it is your skill and knowledge that makes you a successful lash artist, not just the product you use.
We do believe strongly in our products, but it is lash education and skill development that we focus on. Our manuals are updated annually to keep up with the ever changing industry standards and we have a heavy focus on theory, technique and application. At Lady Red Lash Academy, Knowledge is our Passion.
Our trainers are certified educators. Not just practicing lash artists.
We expect the most from our trainers, that is why they must become a certified educator and have continued education annually to guarantee that they are not only great lash artists but great instructors as well.
We believe in small class sizes.
One on one attention is KEY in our training's. We hold small class sizes so that we can give our students the one on one attention they deserve.
Unlimited support after completion of the course.
Each student receives unlimited access to their instructor, social media forums and blogs to support them after they start their lash extension career.
We source our product line to the strictest standards.
We take pride in our products and have options for lash artists at all levels of skill, Along with hand testing most items for quality assurance.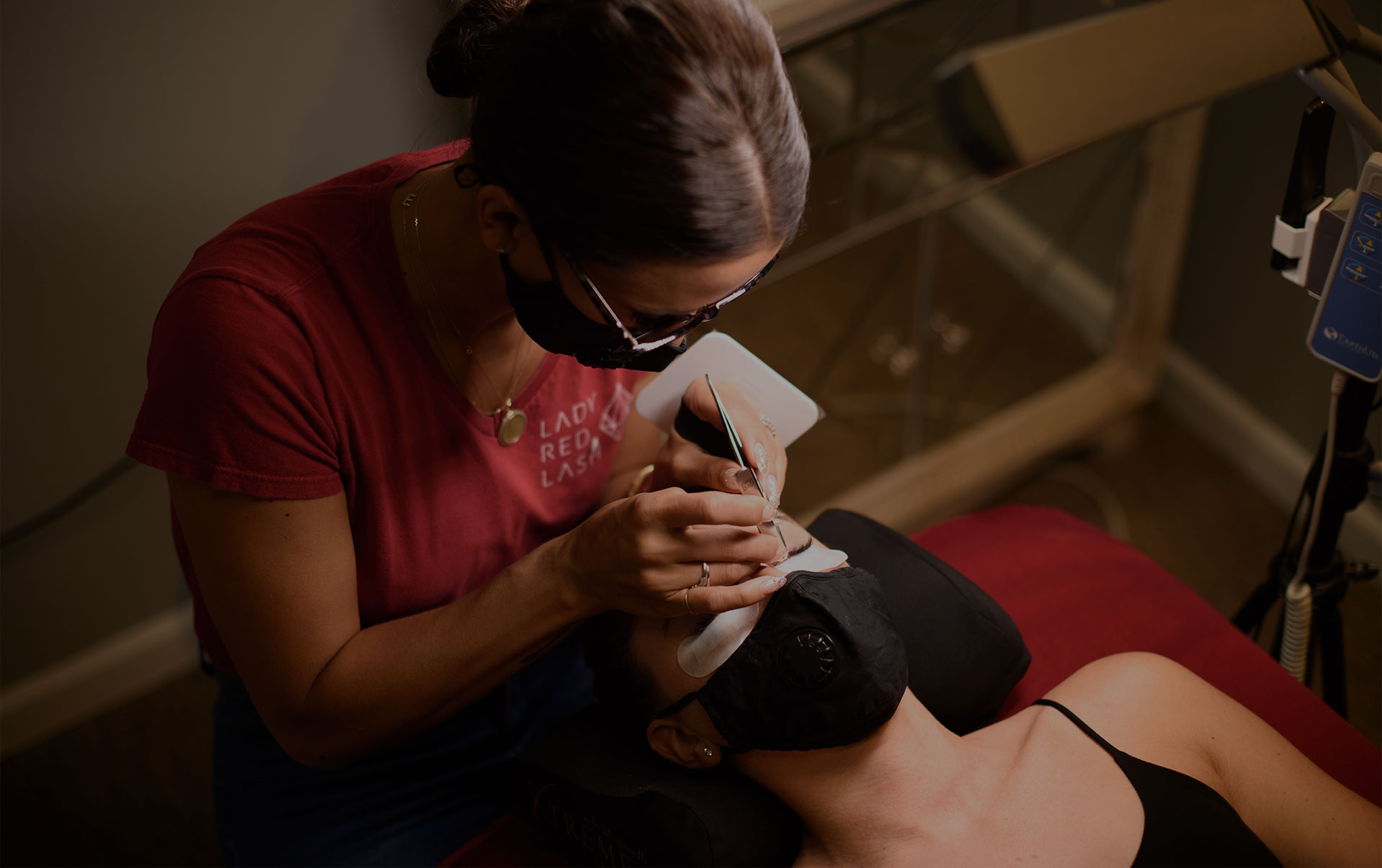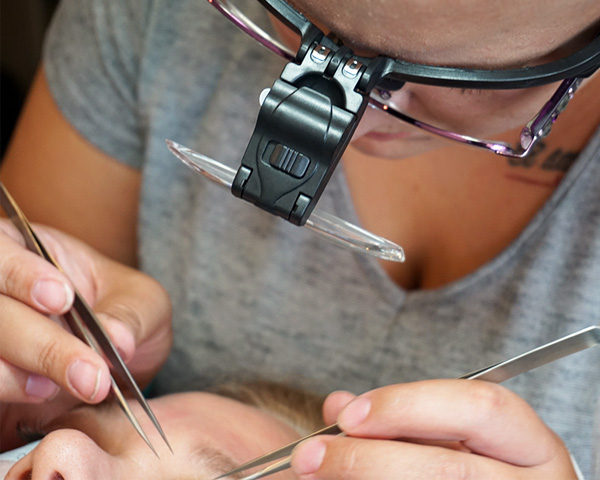 KNOW WHAT YOU ARE GETTING INTO...
WHAT EXACTLY ARE EYELASH EXTENSIONS?
---
---
Eyelash extensions refer to the procedure where a trained professional uses medical grade adhesive to apply a single lash extension to each individual natural lash. The extensions are applied one at a time, without touching the skin and properly isolated from other eyelashes. Extensions can be synthetic or natural fibers that are fabricated to look like a natural single eyelash. The most popular being synthetic mink and silk lashes. They come in various colors, lengths, curls and thicknesses.
Eyelash extensions should not be confused with strip lashes, knotted or flair lashes.
A cyanoacrylate-based adhesive is used so that the eyelash extension adheres for the duration of the natural lash's life cycle. Properly applied and with correct aftercare, eyelash extensions can last Approx. 4-6 weeks. With touch up appointments needed every 2-3 weeks to maintain a full lash line. They can transform the shape of a client's lash line and add more thickness, curl, length and/or color, while feeling virtually weightless.
DO YOU HAVE WHAT IT TAKES TO BECOME A LASH TECHNICIAN?
---
---
Due to the risks associated when working around the eyes, safely applying eyelash extensions requires you to meet the following physical requirements:
GOOD EYESIGHT
Even though we use magnification to help with lash isolation and placement, it is necessary to have both depth perception and keen vision in order to be a successful lash artist.
GOOD DEXTERITY AND A STEADY HAND
The application of lash extensions require you to manipulate tweezers with both hands at the same time, so manual dexterity is key.
Lady Red Lash will provide you with the theory and technical training needed to perform the intricate eyelash extensions application process, but you should also have the physical requirements above, as well as patience, an attention to detail, and a commitment to practicing.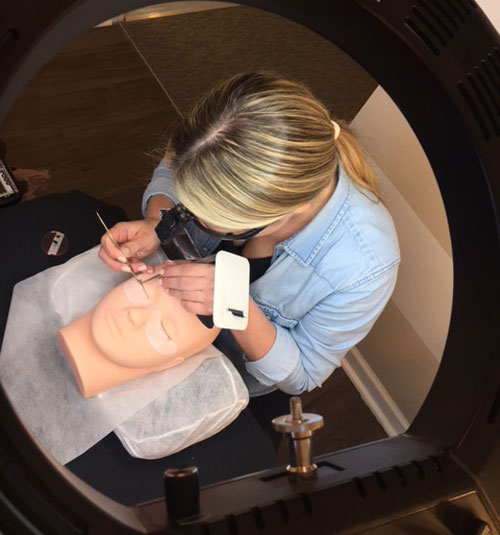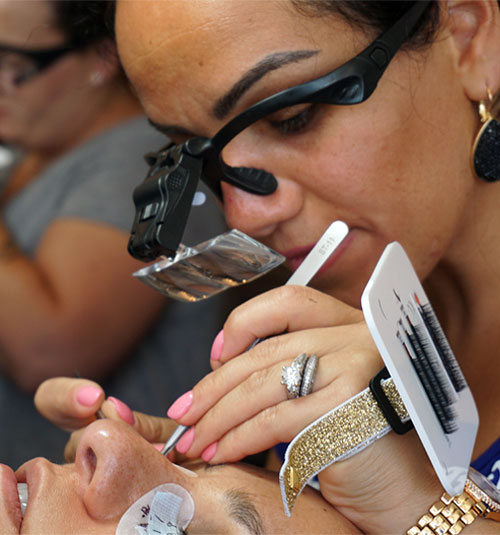 YOUR CERTIFICATION IS NOT GUARANTEED, YOU MUST EARN IT.
---
---
To successfully complete the course Lady Red Lash Academy requires that you demonstrate comprehension of the key concepts, and that you can execute the technical requirements of lash extension application. Our number one objective is certifying students based on the highest standards. because lashing is a manual skill, we believe that becoming a lash artist requires a certain amount of time spent practicing and honing this skill. The initial course represents an introduction to the technique where the students become familiar with theory, styling and technique of lashing. After this course, the students stay in contact with their trainer via email where they upload their work and must meet specific guidelines in order to obtain their certificate. Our reputation depends on the professionals we put out there and it is very important to us to that we provide you with the best training available. We judge and certify our students on strict guidelines and will not certify those who are unable to meet these guidelines.