Frequently Asked Questions:
1
State regulations and licensing:
The State of Michigan requires you to hold a cosmetology or aesthetics license in order to perform lash extensions in a cosmetology establishment. It is your responsibility to research and locate your state statutes and regulations, regarding the practice of eyelash extensions applications, including but not limited to, the professional license or certificate that you must have and the requirements for facilities in which you can apply eyelash extensions.
Each student MUST supply their own model. If you cannot supply a model, then you will do mannequin work during this time. Choosing a good candidate is key to your success in the course.
Please consider the following when choosing your model:
Models should be Someone with a Healthy natural lashline: This means anyone with sparse, thin, overly curly or overly straight lashline will be difficult to lash and possibly hinder your learning process.
Model will need to be able to sit still without talking for upwards of 2 hours. Please make them aware of this prior to the class.
Any person with sensitive skin or eyes, or that has severe allergies will NOT be a good model candidate.
3
Passing guidelines and rules:
Please be advised that Lady Red Lash Academy does not grant certification the day of the course.
PASSING:In order to pass our course, You are required to correctly demonstrate proper technique and application on a mannequin and model. We do allow students who feel like they need more instruction practice time on a mannequin before moving on to live models or an opportunity to retake the course ONE TIME FREE of charge (* if upcoming class space allows)
After that, additional training can be purchased via one-on one with our instructors if more training is needed.
CERTIFICATION: Our number one objective is certifying students based on the highest standards. because lashing is a manual skill, we believe that becoming a lash artist requires a certain amount of time spent practicing and honing this skill. The initial one-day course represents an introduction to the technique where the students become familiar with theory, styling and technique of lashing. After the class is complete, every student must send in photos of their work and it is then assessed by one of our educators. Once the criteria that we believe should be standard in the lash industry is met, certification will be awarded and sent via mail. ALL submission emails can be sent to submissions@Ladyredlash.com
4
How long will it take to become certified?
Certification depends entirely on each individual students skill and dedication to practice. We offer two levels of certification: NOVICE and ELITE. Each level has its own criteria and benefits and Both levels require the submission of photos done on live models.
In order to maintain the integrity of our training, We do not allow any pictures or video taken during the course.
We are committed to providing you with the best training available. Doing so requires advanced planning. Therefore, DUE TO THE HIGH DEMAND FOR TRAINING PROGRAM SEATS THE FOLLOWING TERMS AND CONDITIONS APPLY: no full refunds will be given after registration payment has been made.
7
RESCHEDULING AND CANCELLATION FEE:
RESCHEDULING FEES
MORE THAN 14 DAYS PRIOR TO THE FIRST DAY OF THE TRAINING PROGRAM DATE: ONE FREE RESCHEDULE. THEN $250 THEREAFTER.
7-14 DAYS PRIOR TO THE FIRST DAY OF THE TRAINING DATE: $450
RESCHEDULING WILL NOT BE GRANTED LESS THAN 7 DAYS PRIOR TO THE FIRST DAY OF ANY TRAINING PROGRAM.
CANCELLATION FEES
MORE THAN 14 DAYS PRIOR TO THE FIRST DAY OF THE TRAINING PROGRAM: $250
7–14 DAYS PRIOR TO THE FIRST DAY OF THE TRAINING PROGRAM: $450
REFUNDS WILL NOT BE ISSUED FOR CANCELLATIONS THAT OCCUR LESS THAN 7 DAYS PRIOR TO THE FIRST DAY OF THE TRAINING PROGRAM OR FOR "NO SHOWS".
IF YOU "NO-SHOW" OR ARE TARDY TO THE FIRST DAY OF THE TRAINING PROGRAM, YOU WILL FORFEIT YOUR SEAT AND NO REFUND WILL BE GRANTED.
Our trainers would love to customize a one on one training suited for your specific needs. Please contact us for further information.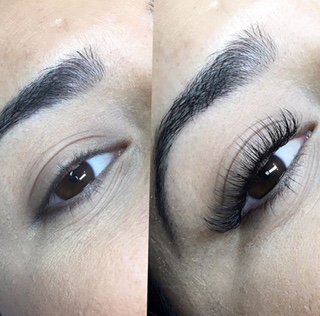 Before & After Lash Extensions